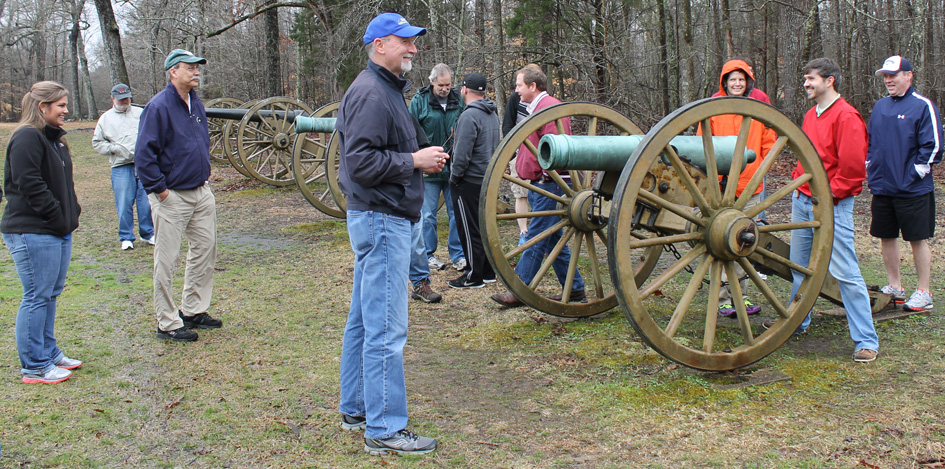 Your Guided Tour of Shiloh National Military Park
Not only did David Stewart major in history, he has spent a lifetime studying the American Civil War. The basic tour of Shiloh National Military Park introduces the visitor to the key decision-makers of both the Union and the Confederate armies, the major sites of Shiloh, and the dramatic turning point of the battle. Prepare yourself for a delightful and engaging historical experience!
Safety Measures:
Yes, you can now tour Shiloh NMP safely with social distancing. Please contact us for details, and give at least two weeks' notice if your party consists of four (4) or more persons.
Further Options for the Serious Historian:
Macro Tour: For the visitor who desires more than basics, spend an entire day at Shiloh. This permits exploration of details of battlefield terrain, understanding the vital role played by the Union Navy, pinpointing crucial leadership decisions during the battle, tracking movements of individual units, and the operation of artillery units during the battle. This custom-tailored option can include hikes through portions of the battlefield, as well as dining at an iconic Southern eatery nearby.
Ulysses S. Grant Tour: Walk in the footsteps of General Ulysses S Grant. Track his early decisions concerning Lew Wallace's division, and his reaction to reports of early contact with Confederate forces. Track Grant's steps as he reacts to the initial Confederate attack. Follow his interactions with key subordinates including his chief of artillery. Finally, follow the Union general's process as he plans the second day's counterattack.
Albert Sidney Johnston Tour: Walk in the footsteps of the Confederate commander. Track his journey to Corinth, Mississippi and his frantic efforts to meld together a fighting force. Follow his decisions during the arduous march to Pittsburg Landing. Stand with him during the Confederate high command's dramatic meeting on the eve of battle. Follow Johnston's footsteps as he directs the Confederate attack and goes to meet his destiny.
Gen. Lew Wallace Tour: learn about the general's personal background as a U. S. Congressman, his promotion to command of a division, and his strategic placement at Crump's Landing. Follow Wallace's response as he meets with General Grant to receive initial orders for deploying his division. Trace the mysterious march of his "lost" Division. Then follow the crucial actions of Wallace's division during the second days' action at Shiloh.
Bicycle Tours of Shiloh: Ask about arranging a bicycle tour for a close-up view of the action!
Battlefield App: A free battlefield app of Shiloh is now available at www.civilwar.org. The app is quite good and will certainly enhance the quality of a visit to Shiloh. However, it will not substitute for the benefits of touring with a seasoned battlefield guide.
Tour rates are $35.00 per hour for individuals and small parties; group rates available upon request.
The tour will be taken in your personal vehicle unless other arrangements are made in advance.

Links
Shiloh Eagles, Dedicated to the Bald Eagles of Shiloh National Military Park