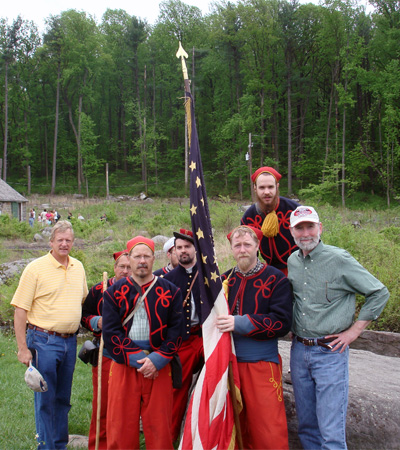 Gettysburg - A Leadership Laboratory
The Battle of Gettysburg was a great turning point in the American Civil War, which in turn was a watershed of U. S. History.
Our Eastern tour included tours of Gettysburg, Antietam, South Mountain, Harpers Ferry, and a large Civil War hospital on the Potomac which once housed both Fighting Joe Hooker and Mary Todd Lincoln. Plan to join us for our next tour of Gettysburg.
Tour stops are:
Day One Begins at 0900 hours. McPherson's Ridge, Willoughby Run, Reynolds' death site. John Buford exhibits proactivity, resourcefulness and initiative.
The Railroad Cut.
Oak Hill. O'Neal and Iverson advance blindly with devastating results.
Seminary. Near here on first day Perrin's Brigade of Pender's Div. penetrated I Corps' center sending Union forces in retreat through Gettysburg.
View from City of Gettysburg towards Cemetery Ridge and Culp's Hill. Lee's ambiguous order given to Second Corps commander and Ewell's subsequent indecisiveness.
Culp's Hill and Spangler's Spring. Hancock exhibits strong leadership by establishing a defensive position, contrasted with Oliver Howard's indecisiveness.
End of Day One, July 1,1863.
Day Two Begins at Seminary Ridge - Lee's HQ. Lee is overbearing with Longstreet but equivocal with Ewell on Day Two.
Emmitsburg Road and Pitzer's Woods - Longstreet's staging area.
Devil's Den and the Wheat Field.
Big Top and Little Round Top.
Col. Strong Vincent responds to a crisis call; position of 20th Maine and 15th Alabama.
Gouverneur K. Warren's observation point.
End of Day Two - Lunch Break approximately 1230 hours.
Lee Memorial and Staging Area for the Charge. A great artillery duel.
The Pickett-Pettigrew Charge, 13,000 men.
Copse of Trees and The Angle.
Return via Harper's Ferry, Bolivar Heights Battleground (Stonewall Jackson's capture of 12,000 troops).